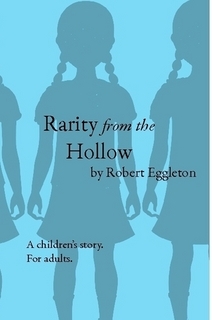 Title: Rarity From the Hollow
Author: Robert Eggleton
Genre: Sci-Fi/Fantasy
You would enjoy this if: you like very dark children's stories.
Trigger Warnings for this book: Mentions of abuse, murder
Pages: 354
Rating: 4 out 5
Buy it: Amazon
Rarity from the Hollow was so hard for me to read through that I frequently had to put it down.
Not because that the writing was hard to read, because it was so well-written and easy to go through, and not because it wasn't interesting because that is the complete opposite. It was simply very dark. Especially at the beginning of the novel. It opens up to talks of abuse and very dark themes that I wasn't completely expecting after I'd received the novel from the Novel/Publisher. I had read a resume of it and known that it would approach it, but I didn't know how. The reason why it was difficult to read through was because the connection with the main character is so well-established at the beginning that it was what made me feel too much to read it in one go; but I wouldn't have this book any other way.
But (as there is always a but), it was hard in some places to follow what the author was trying to say. A lot of the time I could follow along very well, but other times it was hard to catch onto what was passing, certain things seemed to appear in the rearview and then disappear all too quickly. However, this could be said for typical children's book, so it may simply be that the style was meant to recapture that feeling.
Rarity from the Hollow was an amazing ride throughout, touching fantastic themes and continuing toward sci-fi, to create a beautiful and dark novel. However, this is not for the faint of heart. If you are easily triggered by themes such as sexual abuse, physical abuse, any type of abuse really, then I would suggest to stay away from this book altogether because it goes into those subjects very deeply and doesn't let you forget that it's there.
Otherwise, I would suggest everybody give this book a try as it is such an amazing journey.