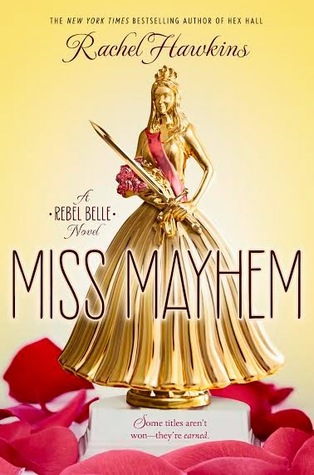 Title: Miss Mayhem
Author: Rachel Hawkins
Genre: Paranormal/Fantasy
Type: Sequel
You would like it if: You're a fan of Buffy the Vampire Slayer, and mythology
Pages: 273
Rating: 3.5
Buy it: Chapters | Amazon | Barnes & Noble
Life is almost back to normal for Harper Price. The Ephors have been silent after their deadly attack at Cotillion months ago, and best friend Bee has returned after a mysterious disappearance. Now Harper can return her focus to the important things in life: school, canoodling with David, her nemesis-turned-ward-slash-boyfie, and even competing in the Miss Pine Grove pageant.

Unfortunately, supernatural chores are never done. The Ephors have decided they'd rather train David than kill him. The catch: Harper has to come along for the ride, but she can't stay David's Paladin unless she undergoes an ancient trial that will either kill her . . . or connect her to David for life
Review: 
Miss Mayhem was a great read, truly, but it did not even come close to the perfection that was Rebel Belle.
Why I liked it:
I loved the character development we encountered throughout the book, especially Harper's growth, which is thing I was most excited about while going through it. Harper is still selfish (which is something I love about her), but she also displays a lot of selflessness, and I don't think it's because she's a Paladin, either. I also came to really like David, which just shows his own development, because I did not like him in Rebel Belle.
I did cry in a few scenes.
Why I didn't like it:
Plot points. There were some plot points I either saw coming, or they weren't as big or as exciting as it should have been.
It was an easy, simple read, but it felt longer than 273 pages, at time. I remember, in the beginning of the book, I was just not really into it, even though I pushed on. It got better once we meet Alexander, but it was still not at Rebel Belle's height.
In the end, I did enjoy this book very much, finishing it in one night, it is definitely something I would recommend to anyone. But it does not live up to Rebel Belle. It doesn't have the hmph that Rebel Belle had for me. It wasn't as exciting, or as emotionally moving. And I'm not sure if that's because of my expectations, or because I'm picky. I gave the book a 3.7/5 because it was a very amazing book, filled with lots of Harper moments that I enjoyed, and the character development we explored was incredibly well-done, but I couldn't give it a 4 because of the predictability, and it just wasn't as satisfying as Rebel Belle.