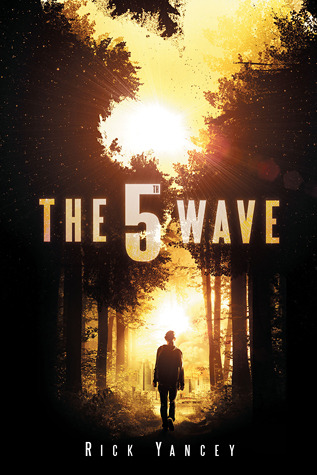 Title: The 5th Wave
Author: Rick Yancey
Genre: YA/Sci-Fi
You would enjoy this if: You liked the Lorien Legacies series, or was a fan of Firefly
Pages: 457
Rating: 4
Buy it: Chapters | Barnes & Nobles
After the 1st wave, only darkness remains. After the 2nd, only the lucky escape. And after the 3rd, only the unlucky survive. After the 4th wave, only one rule applies: trust no one.

Now, it's the dawn of the 5th wave, and on a lonely stretch of highway, Cassie runs from Them. The beings who only look human, who roam the countryside killing anyone they see. Who have scattered Earth's last survivors. To stay alone is to stay alive, Cassie believes, until she meets Evan Walker.

Beguiling and mysterious, Evan Walker may be Cassie's only hope for rescuing her brother—or even saving herself. But Cassie must choose: between trust and despair, between defiance and surrender, between life and death. To give up or to get up
What I enjoyed:
The narrative. It's just so wonderful to read a book with a really well done teenage narrative. First person novels have always been my favorites because, when done right, you get books like these! I especially loved Cassie's narrative overall, because the way she thinks and the way she feels is so prominent and so poignant that I flew through her parts, and when the narrative changed, I wished for more of Cassie. I did enjoy Zombie's parts as well as Sammy's (because I believe, from what I remember, that we do get parts with Sammy's own narrative).
The plot. I love aliens, and I'd been seeing it talked about here and there in the booktube world, and I thought I'd pick it up since I'd been in need of another good alien/sci-fi read.
Ringer and Cassie. I know, these are just characters, and I should probably be mentioning something else. But when I first read through it, I did go into a bit of a slump, and these two helped me to the end and got me back into the story. These are two amazingly strong ladies, two of my favorites, may I add, in the YA world.
Ben and Cassie. No, I'm not picking sides about who Cassie should end up with (but if you did ask me, it would be neither Ben nor Evan), but the bit at the end. This is no spoiler, Cassie had a huge crush on Ben (Zombie) back in the day when they were all still in high school. It was very prominently mentioned in the book,**spoiler** and I loved the way we saw them near the end of the book. It didn't feel as if they were in love with each other, or that Ben felt the same way Cassie had, but to me, it felt like a very family-like moment, which is something I enjoyed much more than the idea of them getting together.
What I didn't enjoy:
**spoiler** Evan. I did not like Evan, at all, and hated the "love" between he and Cassie. I thought it was disturbing, and it was neither well-done nor realistic, especially not for Cassie's character. And I didn't like Evan as a whole. He was creepy, and I really hated seeing him close to Cassie. He is pretty realistic, because we do find guys that are like this in real life, and for that, I commend Yancey for portraying him realistically. But other than that, Evan is not an appealing character nor is he a suitable love interest for Cassie.
The plot holes. When I was reading the book I didn't notice them right away, which I suppose is a good thing. But after I finished the book, it did become more evident when I thought on it.
The writing is easy to get through, but less so when you change narratives. I got really attached to Cassie's point of view, so whenever the book switched to someone else's narrative, it got harder for me to continue on And I think this should be your main concern: getting attached. I know it's unavoidable for most people, but if you can avoid, do it. And if you can't, at least be aware that the reason you may be getting through this slower, is because you're going through a narrative that doesn't suit you or that you don't like, rather than because it's not a good book.