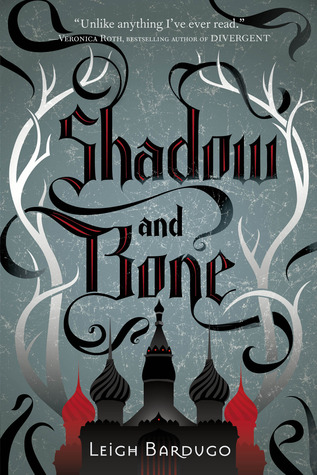 Title: Shadow and Bone
Author: Leigh Bardugo
Genre: YA/Fantasy
You would enjoy this if: you like magic and fantasy, Russian based scenery.
Pages: 368
Rating: 5 out 5
Buy it: Chapters | Barnes & Nobles
Surrounded by enemies, the once-great nation of Ravka has been torn in two by the Shadow Fold, a swath of near impenetrable darkness crawling with monsters who feast on human flesh. Now its fate may rest on the shoulders of one lonely refugee.

Alina Starkov has never been good at anything. But when her regiment is attacked on the Fold and her best friend is brutally injured, Alina reveals a dormant power that saves his life—a power that could be the key to setting her war-ravaged country free. Wrenched from everything she knows, Alina is whisked away to the royal court to be trained as a member of the Grisha, the magical elite led by the mysterious Darkling.

Yet nothing in this lavish world is what it seems. With darkness looming and an entire kingdom depending on her untamed power, Alina will have to confront the secrets of the Grisha . . . and the secrets of her heart.
Shadow and Bone is a terrific, Rusian-inspired read, in which I fell in love with from the first chapter. I remember buying it because of the cover design and what I had heard about it. It sat on my shelf for a while as I went through my books, but finally, I got into it when Taylor's 1989 album came out, and to this day, every time I hear a song from that album, I think of this terrific series.
Shadow and Bone got me excited from the first page. I knew what would happen, although not exactly, logically figuring it out from the synopsis, and that was definitely what got me excited. Big reveals are my favourite things in anything, especially when done right. And this was done right.
I think, possibly, one of my favourite things from this book was, aside from Alina herself, the way it was written. The beginning started out as a fairytale-esque thing, and then turned to first person during the rest of the book, and then back to fairytale at the end. The writing is simple, yet eloquent, and even the words such as Kefta, are easy to decipher from the explanation that follows, without giving the exact meaning of the word.
The characters were all also very well written. I loved Alina to death, as well as Mal, while Genya will, and forever will be, my favourite character in the entire series. The Darkling I didn't like, although he was really well written, with redeeming qualities and a history that made me a bit more sympathetic, but if I had to meet someone similar to him in real life, you would be sure that I would hate him, no matter his redeeming anything.